Your Choices Tell You Who You Are
Your Choices Tell You
Who You Are
I help thoughtful people make choices that truly matter​​
About Kim
I'm Kim DeYoung, the Choice coach, author of The Book of Choice and host of The Voice of Choice.  My zone of genius is helping thoughtful people make intentional choices that allow them to live more examined lives. By making conscious choices, they become who they want to be.  
I treasure exploring the depth and nuance of other people's choices. When clients, friends and family feel stuck, I remind them that they have immense power to shape their future by making conscious and proactive choices.  
Utilizing my Choice Mapping process, I engage in deep dive conversations with people of all ages and stages who are eager to discern what may be holding them back from doing what they want to do, as well as keen to draw inspiration from past choices to guide their future.  
With my attentive and compassionate listening skills, combined with my intuitive inquiry style, I guide people through an individualized self-discovery process, unlocking their innate wisdom, to make empowered personal, professional and relationship choices.  
While engaging in deep dive conversations, both privately and in groups, I offer a fresh perspective and new insights, revealing aspects of a choice that may have escaped attention.
Learn More
Mapping is a creative, self-discovery tool for delving deeply into the components of a choice.
Whether you're facing a mundane decision or standing before a pivotal crossroads, Choice Mapping provides a framework for exploring a meaningful choice in greater depth. Mapping empowers you to find your way from where you are to where you want to be.
Through mapping, you'll gain the clarity and confidence to make the choice that aligns with the person you aspire to be, forging the path that matters to you. Mapping unlocks the possibility to chart your own course, enabling you to design a life that's uniquely satisfying,  purposeful and thoughtful.
My Clients Get
Stuck
On...
My Clients Get


Stuck
On...
The mere thought of committing to a particular path leaves you feeling overwhelmed, and potentially paralyzed. 
Perhaps the burden of decision fatigue is leaving you mentally and emotionally exhausted, unable to think clearly.
You may be carrying the weight of regret or shame from previous choices, further preventing you from moving forward.
Regardless of the underlying cause, when you feel like a passenger in your own life,
you begin to feel out of control to steer yourself in the direction you desire.

Once my clients are clear on how to make the best choices for them,
that's when the momentum kicks in.
My Clients Get
Excited
About...
My Clients Get


Excited
About...
Becoming their own choice-making guide
Accepting where they are and seeing where they want to go
Gathering insights and accumulating more details to make better choices
Gaining clarity on achieving what's possible
Living an examined life with intention and awareness
Making choices that align with their values
Bringing more meaning and purpose to their life
Focusing on what really matters to them
Now, more than ever, we want to align our lives both professionally and personally, around what matters most. But, making the right choices to make that happen can be hard. During your Choice Mapping experience with me as your guide, you'll assess why your choices matter, what could hold you back and what's possible. My unique approach provides a safe, open and inquisitive space that enables you to explore what may be unseen and untapped.
You're Stuck:


The Momentum Experience
You're stuck. You want answers, and you want them now.
We'll look at what you want, what's in the way and what action to take to get you there.
You'll get unstuck and feel good about the direction you're taking.
A 45-minute session designed to provide you with solutions when you don't have unlimited hours to figure things out.
Thought Leader:


The Content Creation Experience
For thought leaders, coaches, authors and teachers who have a message to share with the world but are feeling stuck.
Your words feel inaccessible, intangible or vague.
We'll delve into the details of your chapters, lessons and stories as well as what you want your audience to learn and do.
Look Back:


The Exploration Experience
Take an introspective exploration into a pivotal choice you've made in the past.
Reflect upon a past choice, discussing lessons revealed and unlock the potential to move forward in your journey.
Distill the complexities of your choice into something much simpler that provides you with a new perspective about your choice.
Look Forward:


The Possibility Experience
Embark upon a deep-dive conversation exploring a conscious choice you want to make to determine what's possible for you.
You're either moving toward something you want, or away from something you don't want.
Distill the complexities of your choice into something much simpler that provides you with a new perspective about your choice.
Ready to make intentional choices to live the life you want?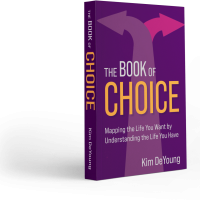 The Book of Choice is a guidebook to making choices and understanding how and why you choose the way you do. It teaches a self-discovery method designed to help you find your way from where you are to where you want to go. Through making conscious choices you become the person you want to be. In this book, you'll learn a practical approach to making these choices and navigating the bumps along the way.
The Voice of Choice explores the power and impact of the many facets of choices we make in all areas of our lives – from personal and professional development, to relationships and everything in between.
What Others Are Saying...
Kim has an uncanny ability to ask just the right questions at the right time, to do a safe deep-dive into what your decisions have created in this life of yours. How can you put a price on this awareness? This kind of work is profoundly personal, spiritual, yet has enormous impact in your relationships, businesses, confidence and personal power.
Kim opened me up to share things I've never even said out loud before. There's something incredibly therapeutic about having someone look at your choices from the outside and then present them to you in a completely different way, without judgment.
None of my current growth would have been possible without this work. Kim's process is perfect for anyone going through transition, which is a time of overwhelm. When you can learn from, and visually see, the repercussions from the choices you've already made, the clarity moving forward is incredibly valuable.
I find your process to be more valuable than years of therapy because you've listened so intentionally and we've covered so much of my life in such a short period of time. You've helped me to make connections between parts of my life that I hadn't seen before. It's a fascinating perspective.
Your choices are deeply meaningful because they demonstrate who you are, what you value, where you've been and where you're going.
Stuck making an important choice choice?
Ask yourself these 5 questions, BEFORE making any major decisions.